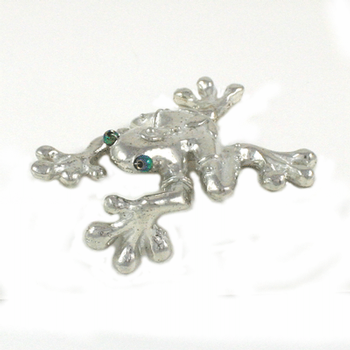 Playful shelf frog
Playful Pewter Shelf Frog
This fun sculpture by artist Lori Strickland peeks over the edge of a table of shelf and reminds you to Hang On. Packaged in a branded box with included artist bio and storycard. The Playful Pewter Shelf Frog is a feel good home decor piece that will continue to make you smile.
Included Story Card reads:
This little frog peeks over a shelf keeping a watchful eye over you. Let his big sticky fingers remind you to Hang On!
DESK PETS REQUIRE NO FOOD, LITTLE ATTENTION AND HATE TO WALK!
Artist Card reads:
Nature inspired whimsy began as a wax sculpture by artist Lori Strickland. Designs are reproduced in American Pewter. Made in Florida.
Playful Pewter Shelf Frog
Packaged in Branded Box with artist bio and story card.
Solid American Pewter – 100% Lead and Cadmium Free
Size (approximate): 2.5 inches long, 0.9 inches tall, 2 inches wide
Color of eyes will vary
Made in USA