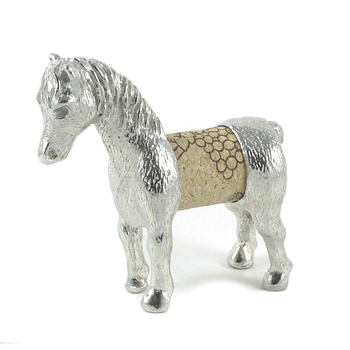 Cork pet- horse
Wine cork horse sculpture. Made with solid American pewter and natural cork.
The Pewter Cork Horse comes packaged in a gift box assembled with a removable wine cork. The solid pewter animal can be pulled apart to change the cork and display a favorite memory. The Cork Horse includes an artist bio and a story card. It is a great gift for weddings, anniversaries, birthdays and pet sitters.
Description:
Solid American Pewter – 100% Lead and Cadmium Free.
Size (approximate): 3 inches long, 2.75 inches tall, 1 inch wide
Cork Donkey Sculpture Displays Wine Cork
Gift boxed with artist bio and story card
Sculpted by an US artist. Gift boxed and handcrafted in the USA. Replace the cork with one of your own to display your favorite memory or brand.