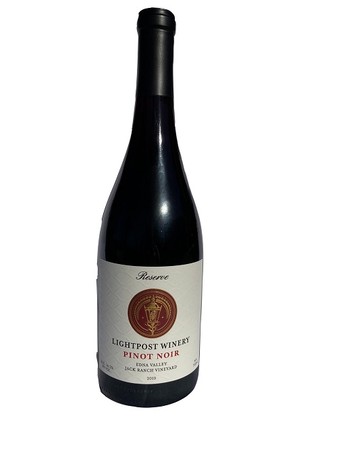 2019 Pinot Noir - San Luis Obispo - Jack Ranch
The first crop is from a small new block of Pinot Noir, situated on the south hillside of Jack Ranch vineyard in the famous Edna Valley in San Luis Obispo. A full-bodied Pinot Noir loaded with dark cherry, plums, and forest earth, rich and concentrated.
Deep ruby color, with notes of black cherry, plums, hints of forest, cola, and earth tones. Deep flavors of ripe, blue and black fruits, spice, and subtle yet structured tannins. Integrated acidity with plenty of new French oak barrels makes this wine a full-bodied Pinot Noir with lots of vanilla, cinnamon, and a long-lasting finish. This concentrated wine can be cellared for up to a decade to explore another dimension of this exquisite wine.
90 points and gold medal at 2021 San Diego International Wine & Spirits Challenge
Food pairing: most fish such as salmon or halibut with a mushroom sauce. Grilled chicken, ideal with duck and other game birds, meat casseroles and of course, stews like beef bourguignon, and cheese plater to start or finish dinner